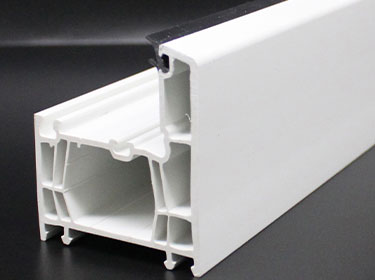 uPVC Profile refers to the PVC profile used to make doors and windows. It appeared in Germany as early as the end of the 1950s. It was only introduced in 1983 and only began to be popularized in the late 1990s.

Because doors and windows processed with PVC profiles are not strong enough, steel is usually added to the cavity to enhance the robustness of doors and windows. Therefore, plastic doors and windows made of steel with steel inside the profiles are usually called plastic steel doors and windows. Through the widespread use of plastic steel doors and windows, uPVC profiles used to make plastic steel doors and windows are customarily formaldehyde plastic steel profiles. Plastic steel is also used as a common material for guardrails.
It is a new type of building material that is widely used. Because of its physical properties such as rigidity, elasticity, corrosion resistance, and aging resistance, it is usually used as plastic steel profile for short, so it is also called PVC profile. Good substitutes for non-ferrous metals such as copper, zinc and aluminum.
It is mainly used in the application of sliding, side-hung doors and windows, guardrails, pipes and ceiling materials in house construction. It is also widely used in automobile engine protection panels through new process processing. It is light and very good, and has excellent rigidity. On top, sometimes also carbonized alloy plastic steel.
The reason why plastic steel profiles can be expanded and applied in a large area and gradually replace wooden and aluminum doors and windows is inseparable from its unique advantages. Compared with aluminum and wooden doors and windows, plastic steel doors and windows have the following advantages:
1. Cheap
2. Rich colors
3. Durable
4. Good insulation performance
5. Good sound insulation performance.